LIVE! Long Beach Eco-Sport-Fest Sunday
Cyclocross Racing, XC Run, Ride the River Trail
Event Date:
Sun Nov 6 2011
Start Time:
8:00AM
Venue:
El Dorado Park
Location:
Area 3
Long Beach CA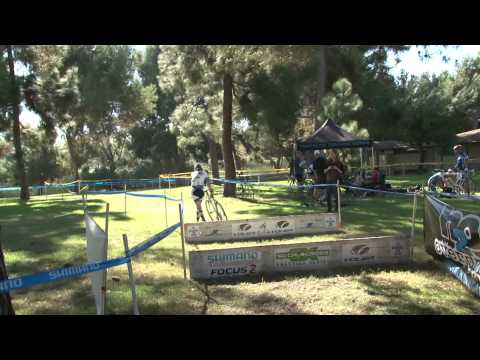 Join us this Sunday 11/6 for a bicycling celebration in Long Beach ECO-SPORTFEST promoting healthy lifestyle and culture including Prestige Series cyclocross at El Dorado Park Sunday and The Water Ride. DON'T FORGET THE TIME CHANGE… FALL BACK ONE HOUR!
A Cross Country run on the cyclocross course benefiting Miller's Children's Hospital and a bicycle ride along the San Gabriel River Trail from the mountains to the sea educating riders along the way.  SAN GABRIEL RIVER TRAIL ROUTE MAP on Bitly, SAN GABRIEL RIVER TRAIN ROUTE MAP on Google.  SAN GABRIEL RIVER TRAIL ROUTE – upload app on Strava.com and win!
Live play by play coming from the park: http://www.ustream.tv/channel/bike-talk-with-coolassmike
RAIN IS EXPECTED!  Bike wash will be set up near the snack shop.  Bring your own scrubbing/cleaning tools and towels to clean up and dry off with.  Also, TEAM tent drop off 7a-8am or carry your tent into the expo, we'll have you room in the TEAM zone. Also extra tents will be set up for warming up and cover.
Google Map address:  El Dorado Park – Area III – 7550 E. Spring St., Long Beach, CA 90815-1617
DIRECTIONS: From the 605 freeway. Exit Spring St. to El Dorado Park. Entering Area I or Area II, proceed NORTH towards Area III.  Event signage will be posted along the road for assistance.  Proceed past the stop sign and go underneath the Wardlow Street overpass to stop sign inside Area III.  Follow signs for event parking to the NORTH WEST side of the Park.  Spring Street entrance does not open until 7:00AM.
CONSIDER CARPOOLING OR PEDAL TO THE PARK: El Dorado Park charges $7 per car for parking.
THE COURSE: This fast paced course features 2 elevation changes and twisting turns on the grass and paved pathways within the park. Each lap is approximately 3km in length. Races are timed circuits on the course based on category.  The course consists 70% grass, 20% paved, 10% dirt/sand. Start.Finish on paved road. The bike pit is located where the course parallels itself just before turning left on to the finish straight.  Barriers will either be in the s-turns in the grass.  Course will wind through and around the tree grove.  There will be a stairs section, a bunny hop log and in the sand pit section. 

THE VENUE – EL DORADO PARK: This sprawling park in Long Beach was first opened in 1955, and ever since it has been attracting nature lovers who want to get away from the city that lies just outside the park. It covers 800 acres that include an east and west area – in the east area there is a 105-acre nature reserve as well as three fishing lakes and a children's train ride. The west section boasts a golf course, basketball courts and other sporting areas.
REGISTRATION: Online registration available including Series discount 10-race pass at: www.socalcross.org/register Online registration closes Thursday November 3rd at 11:59PM (Pacific). Race Day registration opens 7:00am then  two hours prior to each race category start and closes 20 minutes prior to each race category start.

ENTRY FEES:  *$5.00 2nd race pricing applies after HIGHER entry fee is paid except Juniors race.
| | | | | | |
| --- | --- | --- | --- | --- | --- |
| | C: Beginner | Junior Race | Youth Under 10 race | All Others | 2nd Race |
| Pre-reg | $20 | $10 | Free | $30 | $5 |
| Race Day | $25 | $15 | Free | $35 | $5 |
*This is an American Bicycle Racing sanctioned event.  USA Cycling does not recognize ABR for ranking or upgrade points.
EL DORADO PARK CX MAP