Cross Fever #4: Worlds! Los Angeles!
2013-14 SoCalCross Season Finale!
Event Date:
Sun Jan 26 2014
Start Time:
8:00 AM
Venue:
Pierce College
Location:
6201 Winnetka Ave
Woodland Hills CA 91371
Host Clubs
Event Partners
The final race of 4 in the SoCal'Cross Fever series. Prizes to overall points finishers.  Here are the current standings… points 1.5x for the finale!  Must race the last race of that category to be eligible for overall podium – top 3!
*Online REG closes 12noon Pacific, Saturday – Jan 25th.
*Race Day registration available & opens at 7:00AM.
*CX rental bikes available online & race day!
New to Cross? FREE! Beginners Clinic 8:30 and 10:30am!

SCHEDULE:
8:00AM CROSS COUNTRY RUN
9:00AM JUNIORS, YOUTH RACE
10:00AM MEN 55+, WOMEN 35+, MEN C
11:00AM MEN 35+. MEN 45+
12:00PM WOMEN A/B, C
12:50PM KIDDIE CROSS
1:00PM MEN A/B
2:00PM SINGLE SPEED MEN, WOMEN
2:50PM ANY BIKE GOES CYCLOCROSS RACE
3:00PM THE ULTIMATE CROSS LAP
The WEATHER report: http://wxch.nl/1mldpuN
CYCLO-CROSS SINCE 2002… MEMORABLE  MOMENTS: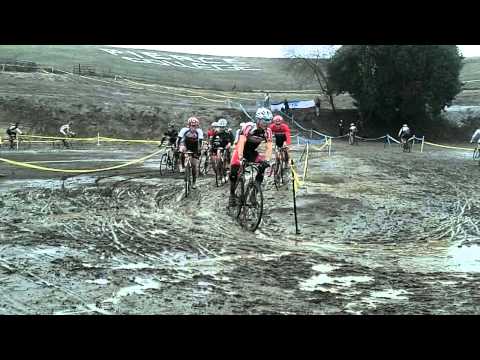 ADDRESS: Pierce College – 6201 Winnetka Avenue – Woodland Hills CA 91371 – Stadium Parking Lot
DIRECTIONS: From US-101 Take exit 25 for Winnetka Ave toward Woodland Hills. Turn RIGHT at Winnetka Ave. Turn LEFT at Brahma Dr. Drive up road and LEFT onto Stadium Way into stadium parking lot.
THE COURSE: This course is comprised of 90% dirt and 10% grass including established cross county running track and off-camber sloping hillside. The bike pit is located where the course parallels itself just before turning left on to the finish straight. Obstacles include: one double barrier section, one log set, and one mulch pit. This course includes two power climbs, one run up. Each lap is approximately 3.0km in length. Races are timed circuits on the course based on category.
THE VENUE: Founded in 1947, Pierce is a comprehensive college with almost 100 disciplines being taught to more than 23,000 students each semester. It is one of the nine colleges of the Los Angeles Community College District, and is fully accredited by the Western Association of Schools and Colleges, a nationally recognized accrediting agency.
Located on 426 acres in the western San Fernando Valley, nestled next to the thriving business district of Warner Center, Pierce College combines state-of-the-art technology and learning with the picturesque beauty of its rolling hills. The campus' setting among 2,200 trees, thousands of rose bushes, a nature preserve, a botanical garden and a forest area boasting giant redwoods makes it most unique in the Los Angeles metropolitan area.
The COURSE IS OPEN FOR RIDER INSPECTION 8:30am on race day and in between waves through out the day. Racers may enter course PAST the finish line when instructed to do so by the race officials and shortly after the first race winner crossed the line. Please do not pass riders still racing on course and cross the finish line while another race is in progress.
Event Information
COURSE MAP