SCPS #14: Gene Galindo Memorial Turkey Trot Cross
2010 SCNCA District Cyclocross Championships
Event Date:
Sun Nov 28 2010
Start Time:
9:00 AM - Registration opens at 7:30am - Beginner's CX Clinic at 8:30am
Venue:
Verdugo Park
Location:
1621 Canada Blvd.
Glendale CA 91208
Slideshow from our Flickr Group featuring images tagged "Glendale."
Error fetching Flickr photos: A feed could not be found at http://api.flickr.com/services/rest/?method=flickr.photos.search&lang=en-us&format=feed-rss_200&api_key=81f944a8c24af980801ed029ce8fba39&group_id=868002@N20&sort=date-taken-asc&tags=glendale&per_page=50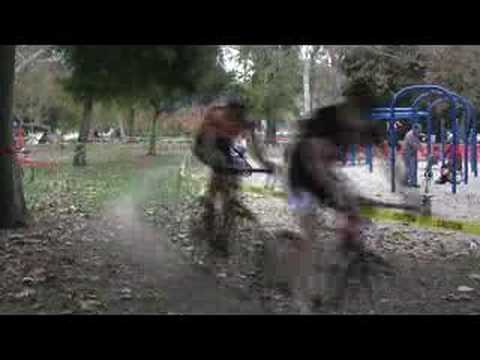 Join us for Round 14 of the SoCalCross Prestige Series also the 2010 SCNCA District CX Championships: Turkey Trot Cross… hosted by Pasadena Athletic Association, presented by Moots Cycles and supported by Montrose Bike Shop and TEAM SoCalCross.
Hope you can join us for the last race of November 2010 at So Cal's most popular cyclo-cross race!  This post holiday weekend brings the festivities to the City of Glendale's Verdugo Park.  The kids race is the largest of the season and SoCal's top racers don't miss this one and makes for a most exciting day of racing!  New riders will get the chance to race and SoCalCross offers a beginner's clinic and rental bikes for those who want to try 'cross.  Celebrate the bicycle, your family and friends during this Thanksgiving Holiday weekend!
ABOUT THE PARK:  This 36-acre park features wide stretches of green, grassy areas shaded by tall, old oak trees. There are two children's playgrounds complete with slides, swing sets and climbing structures. On the south side of the park, there are rows of picnic tables and benches near barbecue pits.
SCNCA DISTRICT CHAMPIONSHIPS:  This race is also the 2010 SCNCA District Cyclocross Championships with 25 championship categories from Juniors to Masters and elite CX 1/2; 3 and 4.
ATTENTION RIDERS – YOUR RACING AGE FOR CYCLOCROSS:  Your CX age is the age you'll be as of 12/31/2011. The year of the CX World Championships and the official end of the CX season which takes place in 2011 (January).
SCNCA ANNUAL AWARDS PICNIC:  At 12:00pm, the SCNCA will host its annual awards picnic recognizing SoCal/Nevada's top road cyclists – crit/track/road/TT.  Taco plate complimentary first come-first serve to all race participants.  Spectators $5.  Otherwise, Rudy will have the turkey and veggie dogs going – FREE for all!
RACE DAY SCHEDULE:
9:00AM – Non-Championship (one day license OK) CX 3/4 Men & Women
SCNCA CHAMPIONSHIP SCHEDULE:
10:00AM – Juniors and Non-Championship Youth
11:00AM – Masters Men 45+ 55+ & Single Speed (ALL)
12:00PM – CX4 Men & Masters Women
1:00PM – Masters Men 35+
2:00PM – Elite Women CX1/2, CX3, CX4
2:45PM – Kids Kross Race
3:00PM – Elite Men CX 1/2, CX3
*must have a USA Cycling annual license to compete in championship category races.  Go to:  www.USACycling.org or purchase on race day.  $60 adult and $30 Juniors 18 and under.  When purchasing an annual license, you will be a CX4.  Must have appropriate CX category license to race in elite CX 1/2 or 3 races.
BREAKING NEWS NEW RIDERS – WE WANT YOU TO KEEP LOVIN' 'CX, SO:
SoCalCross is offering some fanstastic customer appreciate discounts at Turkey Trot Cross!  Since this is a USA Cycling District (SCNCA) championship event, rules state you must have a USAC Annual license to compete in championship races. So here are some choices we'd like t…o offer you this Sunday:
OPT ONE:  "No more $10 one day license fees in 2010!"  On race day, $60 (can pay via credit card, cash or check) buys you a 2010 annual USAC license good through 12/31/10. For only $5 more ($65 total) you can enter as many races as you are eligible for as a CX4, single speed and.or master. Then, show your receipt and for just $5 per race, you can enter the remaining of the SoCalCross Prestige Series races in 2010. ABR or USAC.
OPT TWO: "One-Day at a Time"  Enter the Non-Champ CX 3/4 Race at 9:00AM for $28 ($31.13) online or $35 on race day. SoCalCross will pay your USAC one-day license – a savings of $10!
JUNIORS:   Juniors (CX age 10-18 – the age you'll be as of 12/31/2011) who do not wish to purchase a USA Cycling license can compete in the 9AM non-championship race for FREE! SoCalCross will pay your one day license fee : ()
2010 SCNCA Championship Eligibility: Per USAC rules, here are the requirements to enter any SCNCA Championship event:
1. You must have an annual USA Cycling license. You cannot enter with a one-day license, a foreign license, or with a CBR license.
2. You must be a USA Citizen or a Permanent Resident.  If your license has an "N" for Citizen, you will not be able to register for the race.
3. Riders who meet the entry requirements, but live outside the SCNCA territory, can compete but are not eligible for any title, medal, or jersey. The three top spots are reserved for the first three SCNCA riders.
USA Cycling Rulebook:
8. Road, Track & Cyclocross Championships
8B. Championship Eligibility
8B1. Championships are open only to riders who hold USA Cycling rider annual licenses and meet other qualifications stated in these rules. International licenses are not required to compete in National Championships.
(a) State championships are open only to USCF, UCI Men"s Continental, or UCI Women"s Team members who are USA citizens or permanent residents and reside in the state as shown on their licenses. Riders who, at any time in the current year have been members of Men"s UCI Pro Teams and Professional Continental Teams may not enter these races.
TTCX 2010 COURSE MAP