Turkey Trot Cross
SCPS #13: SCNCA (SoCal-Nevada) Disctrict Cyclocross Championships
Event Date:
Sun Nov 27 2011
Start Time:
8:30AM
Venue:
Verdugo Park
Location:
1621 Canada Blvd.
Glendale CA 91208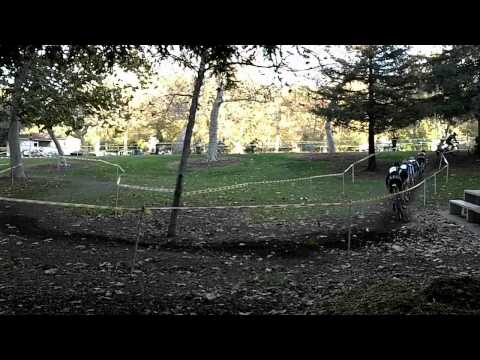 Slideshow from our Flickr Group featuring images tagged "Glendale."
Error fetching Flickr photos: A feed could not be found at http://api.flickr.com/services/rest/?method=flickr.photos.search&lang=en-us&format=feed-rss_200&api_key=81f944a8c24af980801ed029ce8fba39&group_id=868002@N20&sort=date-taken-asc&tags=glendale&per_page=50
THE VENUE: Verdugo Park is one of the crown jewels in the City of Glendale park system. Though it is in the middle of a residential neighborhood it features ample grass, mature shade trees, a sparkling creek, great picnic areas, and a skate park!
THE COURSE: Race takes place in a beautiful urban park shaded by trees. Start/finish will be on east lawn.  Course is a mix of pavement, dirt and grass.  The championship course is mostly flat with a challenging downhill U-turn then run up, twisting through mulch, a fast approach stairs section, fast approach double barriers, and through the infamous Tot Park Sand Trap©! Each lap is approx. 3.0km in length.  Races are timed circuits on the course based on race category.
REGISTRATION: Online registration is available and is also your last chance to purchase a Series discount 10-race pass at: www.socalcross.org/register Online registration closes Friday November 25th at 11:59PM (Pacific). Race Day registration opens 2 hours prior to race category start and closes 20 minutes prior to race category start.
CYCLOCROSS RACING AGE: A rider's racing age for the 2011-12 Cyclocross Season is the 'racing age' they'll be the year of the UCI CX World Championships which take place in January 28-29, 2012.  Your racing age for the entire cyclocross season running September 2011 through January 2012 is your age as of 12/31/2012.
LICENSE: This is a USA Cycling sanctioned event.  A valid 2011 annual USA Cycling license is required for all championship races.  Licenses can be purchased online at: www.USACycling.org or at registration on race day. An annual USAC license cost $60 ($30 for Juniors) and expire on 12/31/2011.  A 2012 license can be purchased starting 12/1/2011. A USAC One Day license $10 can be purchased on race day and used for Non-Championship races only.
State championships are open to anyone holding a current annual USA Cycling license including Juniors.  Licenses can be purchased online at: www.USACycing.org or on race day with proof of category status.  Only those that reside in the SCNCA (Southern California/Nevada) region and are either citizens or permanent residents can win the title.  Out of district riders can compete for race day prizes. Riders who, at any time in the current year have been members of Men's UCI Pro Teams and Professional Continental Teams may not enter these races.
SoCalcross Customer Appreciation Thanksgiving Special! We appreciate YOU and want you to come out to Glendale and race 'cross while also not have to pay an arm and a leg for it.  An annual license is needed to participate in Championship races, so if you need to buy a USAC 2011 annual license $60 to race at TTCX, your race entry is FREE (a $30 value)!  SO, if you register online by Friday, Nov 25th, 11:59pm (Pacific), not only will  you get your first race FREE you will also get a coupon code for ONE free entry to either CXLA race12/3-4, 2011 (except UCI elite) another $30 value for a total of $60 in savings! Must print/show your USAC "Auth to Ride" receipt dated 11/16-11/26 at TTCX Race Registration and we'll refund your $30 entry fee. Offer not valid for race day annual license purchase.

CAN'T MAKE IT?  WATCH IT… LIVE STREAMING AT:

BIKETALKS.TV
Thanks to our local bike shops for supporting our race!
Turkey Trot Results (
web
) (
pdf
)
TTCX 2010 COURSE MAP